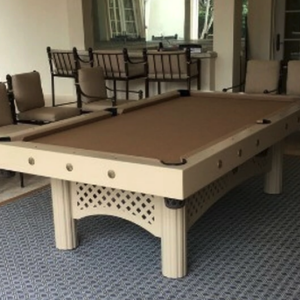 Body: designer colors are available. Brown, Burgundy, Camel, Cocoa, Forest Green, Grey, Pacific Blue, Teal, True Blue.
This basic modern design complements any setting -inside or outside. Weather-resistant construction stands up to any environment.
The aluminum frame has a powder-coated, textured finish that's handsome as it is strong. It's also rust-resistant, and will last for many years.
Patented uni-body construction creates a seamless body that is smooth, long lasting, and easy to care for.
Playing bed is a solid one piece slate (400 lbs) . The one-piece slate construction means a shift-free, fully weather-resistant seamless level playing surface.
The fabric is a hybrid version of Sunbrella. It scoffs at water, mildew, staining, rot, fading and tearing, and lasts for years. Available in Teal, Burgundy, Pacific Blue, True Blue, Forest Green, Cocoa and Camel.
The rails are made with a tournament-grade rubber, specially designed by Gameroom Concepts to last many years in all climates. The linings are made of polyvinyl with stainless steel 'T'nuts then upholstered in our proprietary Sumbrella fabric with stainless steel fasteners.
The pockets are custom, hand made out of molded test-approved, commercial-grade UV stabilized nylon .
Stainless steel hardware throughout.