Elegant Home Style Table with the legendary playability of Diamond Tournament Tables
Available in 1" thick one piece slate design or three piece slate design
Built in leveling system, 20 points one piece slate, 40 points 3 piece slate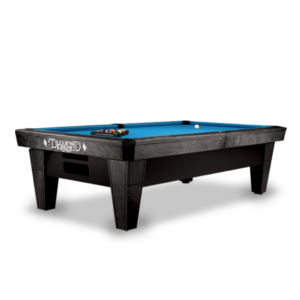 This one-piece slate table must be installed on the ground level.
Three-piece slate is available for upstairs installation.
Massive 7" rail construction utilizing six pieces of solid Oak or Ash hardwood butcher-blocked together. One piece of poplar is used in the front portion of rail. This construction prevents warping.
Poplar wood is used in the front of the rail to glue the cushion rubber directly to the sub-rail. Poplar accepts staples easier than other wood types, when covering cushions with cloth. ¼" feather strip channel is cut into the top of rail for securing cloth over the top side of the cushion then stapled to the bottom side of the poplar wood.
Slate

7' ,8' and 9' uses 25mm for one piece and 30mm for 3 piece Brazilian slate precision machined top and bottom. Slate supported by massive 5" beams of Timber Stand LSL (laminated strand lumber).

Rails

Genuine Oak, Cherry, Maple, Mahogany, Walnut, Rosewood, and Dymondwood®. Four 3/8" bolts lock slate to each rail for solid immovable performance. Diamond inlaid sights are 3 11/16" from tip of rubber to center of diamond and perfectly matched. Rail top is rounded to allow better rail shots and 7¼ wide (rubber to edge of rail) for a stable bridge hand. NO metal ornamentation to catch on clothing or damage cues.

Cushions

Tour specified K-55 profile offers quick response. An additional ¼" top rail backing wood has been engineered between the cushion and the feather strip channel to provide consistent rail speed.

Pockets

Patent pending bi-level design is flush to the rail. Shooting out of the pocket is just as easy as shooting off the rail. Each leather basket holds 9 balls. The leather pockets will never scuff and are engineered for rapid ball drop.

Skirts

Furniture finished solid hardwoods. Inclined designed offers player comfort even when bending.

Pedestals

Twelve 3/8" x 7" bolts anchor the pedestals to the frame eliminating movement.

Feet

Brass, aluminum, or leveling block style. Features built-in no lift leveling system requires only one person to adjust. A twist of a wrench or screwdriver adjusts each corner in seconds.