Another tradiotional design that feautres a routed frame and detailed leg. The Emerald is our antique dowel- pin construction, that comes standard in solid wood with a 3- piece 1″ slate from Brazil and a K-66 rubber cushion profile.The Emerald comes standard with the following options.

Maple or Oak Wood
Your choice of any A.E.Schmidt Finish color ( custom matching available at an upgrade)
Mother of Pearl diamond sights ( other options available at an upgrade)

Emerald shown in Old world finish on maple.
Classic design with beautiful detailing, the Serpentine is sure to add some glamour to any room. This model features a layered wood leg and molded blind. The Serpentine is a our heavy duty Dowel Pin  construction, that comes equipped with a 3- piece 1″ slate from Brazil and a K-66 rubber cushion profile.The Serpentine comes standard with the following options.

Maple or Oak Wood
Your choice of any A.E.Schmidt Finish color ( custom matching available at an upgrade)
Mother of Pearl Diamond sights ( other options available at an upgrade)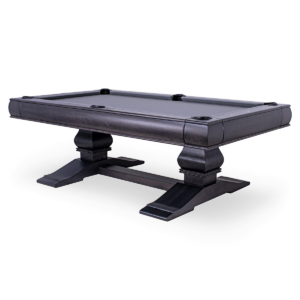 If you are looking for design and detail the Topaz hits the mark.  The Topaz is a Classic Uni-body construction, that comes equipped with a 3- piece 1″ slate from Brazil and a K-66 rubber cushion profile.The Topaz comes standard with the following options.

Maple or Oak Wood
Your choice of any A.E.Schmidt Finish color ( custom matching available at an upgrade)
Mother of Pearl Diamond sights ( other options available at an upgrade)