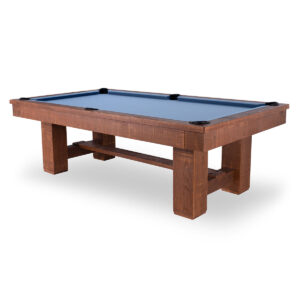 Branson: Shown in Solid Oak with Rustic Black FinishSizes Available: 7′, 8′, 8OS, 9′Standard Wood Choice: Maple or OakFinishes: All A.E. Schmidt Finishes
The Outlander is the newest addition to our Country Rustic Collection. This table brings the charm with its rustic oak wood and industrial metal turnbuckles. This table comes standard with a 3- piece 1″ slate from Brazil and a K-66 rubber cushion profile.The Outlander comes standard with the following options.

Rustic Oak, Maple or Oak Wood
Your choice of any A.E.Schmidt Finish color ( custom matching available at an upgrade)
Mercury Dimes ( other options available at an upgrade)
Metal Pieces come in black.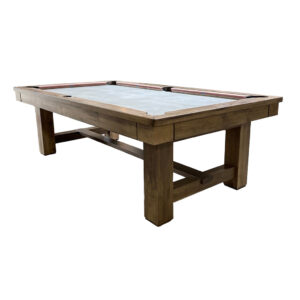 The Westport a sleeker and more streamlined version of the Branson. This table comes standard with a 3- piece 1″ slate from Brazil and a K-66 rubber cushion profile.The Branson comes standard with the following options.

Maple or Oak Wood
Your choice of any A.E.Schmidt Finish color ( custom matching available at an upgrade)
Mother of Pearl Diamonds ( other options available at an upgrade)
Stock photo shown in maple with Antique Barrel finish