CB LA CONDO ÉVOLUTION
$12,599.00
-
The very best in terms of refined taste, this distinguished design by CANADA BILLIARD, is one that will, without a doubt, make an immediate long-lasting impression. Reflected by its purity and virtuousness, the finish will surely be in the spotlight. Completed with a wide range of assorted accessories, dining room and conference room will be profoundly transformed by the versatility of this convertible pool table.
Solid Wood (White Birch)
Height (30″/32″)
1″ Framed Slate
Leg Levellers
Rubber Cushions ("Master Speed")
| | |
| --- | --- |
| Brand | Canada Billiards |
| Felt | Academy Blue, Aztec, Basic Green, Black, Bottle Green, Brick, Brite Blue, Brite Gold, Brite Lime, Brite Orange, Brite Pink, Brite Red, Brite White, Brown, Burgundy, Camel, Championship Blue, Championship Green, Charcoal, Dark green, Electric Blue, English Green, Euro Blue, Golden, Khaki, Navy, Olive, Purple, Red, Steel Gray, Taupe, Titanium, Wine |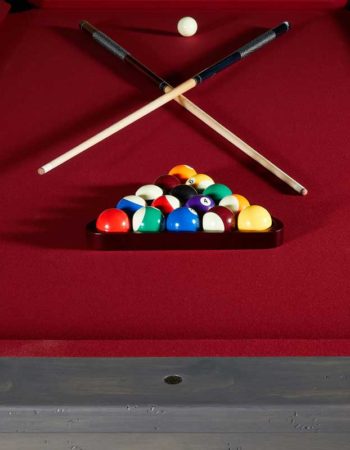 *SOME EXCLUSIONS APPLY
FREIGHT SHIPMENTS:
Freight shipments come with with curbside shipping. This means the freight company is not responsible for carrying the product into the building, unloading the package from the truck, or assembling your purchase. For heavier items, we strongly recommend you have the appropriate assistance available at the time of delivery. The freight company will notify you by phone to schedule a delivery date and time window. Typically, there will be a four-hour time frame for the delivery and someone must be home for the item to be delivered. Shipping time may vary depending on product and line. In stock Plank & Hide Co. & Nixon Billiards tables will ship within 1-3 weeks. Customer is also responsible for the following steps.
1. Delivery Appointment - scheduling a delivery appointment when the shipping carrier calls (usually 2-3 days in advance) at a time when you can be home to sign for the items within the carrier's business hours. Fees resulting from re-delivery will be the sole responsibility of the customer. Please do not miss your scheduled delivery appointment. Re delivery can take up to a week depending on your location.
2. Product inspection - Please take photos of all delivery pallets.  When you receive the freight, if there is any sign of damage to the packaging (i.e. scratching, chipping, denting, etc.) please make sure you notate it on the POD (Proof of Delivery). If you notice specific damage to the product, please explain this in detail on the POD and contact us immediately. If no damage is visible on the crate, please write "possible damage to contents of the crate(s)." Signing the POD free and clear without notating damage, means that you have confirmed that you have received your order in PERFECT condition.
Signing the Proof of Delivery will be requested by you from the driver. If you do not notate that there is possible, or even specific damage at the time the POD is signed, a claim cannot be filed and any damages will be your responsibility. Due to shipping company policies this is true no matter the circumstance of the delivery, including driver's rushing, large packages, lack of help or damage that is concealed in the package.
Delivery times and dates are projected, and not definite, they are subject to change depending on weather conditions, traffic conditions, and acts of God. Delays in delivery that are outside of our control are not a reason for order cancellation. Unless a delivery date or deadline was guaranteed in writing to our customer, any order cancellations made due to delivery delays are subject to a 10% restocking fee and round trip shipping cost. Delivery guarantees are void in the event of a natural disaster or an act of God (delivery truck breaking down, car accident, etc.) - any returns or order cancellations made in the event of a natural disaster preventing the delivery from happening on time will be subject to round trip shipping costs and a 10% restocking fee. 

GROUND SHIPMENTS:
Ground shipments may be sent without signature required and may be inspected after arrival unless noticeable damage to the packaging exists. Any and all damage to ground shipments must be submitted by email to sales@sawyertwain.com please include your order number and a picture of the damage. The damage on ground shipments must be submitted within 1 business day.
Should the driver not allow an inspection please write the driver's name on the package and note the following "driver refused to allow inspection, possible concealed damage." and take a picture of the packaging, even if it looks to be in good condition. We suggest having a camera available when the product arrives to document the condition of your shipment in the small chance that there is damage.
*Please note that in the rare case of shipping damage it is almost never recommended to refuse the shipment (please see reporting damage). Should damage occur notate damage on all delivery receipts, have the driver note the damage on his copies and accept the delivery. We also suggest taking pictures of the freight and submitting them to www.sawyertwain.com immediately.
By signing the delivery receipts you are confirming that the item was delivered in 100% perfect condition. wwwsawyertwain.com's responsibility with respect to shipments made by common carrier ends with the customers signature on the bill of lading. Should the product shipment be signed for without damage or possible damage noted Sawyer Twain LLC, can no longer file a damage claim with the freight carrier. Therefore any damage(s) become the customers responsibility to claim with the freight carrier. If for some reason, inspection is not possible at the time of the delivery, you must write "possible damage to contents of the crate(s)."
PREPARING TO RECEIVE YOUR SHIPMENT:
It is the customers responsibility to be prepared to accept all shipments once the delivery appointment is scheduled. This includes but is not limited to:
1. Being prepared to inspect the contents of your shipment prior to signing. DO NOT SIGN FOR ANY SHIPMENT WITHOUT INSPECTING THE ITEM. IF THERE IS DAMAGE IT MUST BE NOTATED ON ALL DELIVERY PAPERWORK TO BE ELIGIBLE FOR REPLACEMENT OR REPAIR by www.sawyertwain.com.
2. Have the appropriate people to help unload your freight if you have ordered curbside or back of truck shipping. This will insure that you do not require a re delivery.
3. Being sure that a freight truck can reach your location.
If shipping company is unable to contact the customer to schedule a delivery appointment (we will make every attempt to contact you via phone and email) - storage fees will be applied for 3 days, after 3 days of being unable to reach the customer for delivery, we will instruct the shipping company to ship back the products to the manufacturer in order to avoid further storage fees. Customer is responsible for shipping fee both ways, restocking fee, and storage fee. Some products do require assembly and the assembly is customer's responsibility unless the customer orders white glove delivery service.
GENERAL SHIPPING & INSTALLATION INFORMATION:
1) Customer is responsible for ensuring that the game table can be delivered to the desired location. If applicable our movers/installers will need to utilize the following if available - loading dock, entry road, freight elevator, and available parking space for delivery truck. It is the customers responsibility to ensure that the delivery truck has a parking space. Customer is also responsible for checking delivery rules with property management and any building insurance requirements prior to the game table being delivered. In the case of an in home installation, customer is responsible to make sure that the product can be delivered into customer's preferred location and that customer has supplied all pertinent information prior to the delivery including but not limited to stairs, elevators, delivery area and have confirmed the ability to have the item successfully delivered. Shuffleboards are very long and may not fit around a corner in a hallway, up spiral stairs, etc. In this case the customer is responsible for any charges over the original cost of delivery and installation. Rural locations subject to distance surcharge.
2) It is the customer's responsibility to ensure that they can receive their order once the shipping company calls to schedule a delivery - a working phone number is required to schedule delivery appointments. If we are unable to contact the customer to schedule a delivery appointment (we will make every attempt to contact you via phone and email) - storage fees will be applied for 3 days, after 3 days of being unable to reach the customer for delivery, we will instruct the shipping company to ship back the products to the manufacturer in order to avoid further storage fees. Customer is responsible for shipping fee both ways, restocking fee, and storage fee.
3) Unless the customer advises the necessary and or extended delivery date in advance of order production, customer must be able to receive the product after production is completed. We cannot store the product at the manufacturer's facility after the order is complete unless we have notified the manufacturer in advance of any delivery delays. A storage fee of $50 will be charged per day that the customer requires the manufacturer to store the game table.
WHITE GLOVE INSTALLATION
Product ships directly to certified billiards technicians in your area. A representative with Sawyer Twain will reach out to you to begin to coordinate the delivery and professional installation of your pool table after production has been completed and your items are ready to ship. From purchase to installation, the process typically takes 2-4 weeks dependent on location and installer lead time. This is subject to change during holiday season and other busy periods.
PROFESSIONAL INSTALLATION
If you elect to have professional installation, your item will be delivered via curbside freight. Following the delivery, an installer will come out to complete the setup. Upon arrival the installers will unbox everything, and ask you which room you would like your new table to be setup in. All contact information is shared while in transit.